The 1977 Sofa Package 4 is not just a piece of furniture - it's a lifestyle statement. This remarkable contemporary take on the first King Living Award Sofa, created in the seventies, is designed to provide not only comfort but also a dash of nostalgia wrapped in modern functionality. Its key features and benefits set it apart from other furniture offerings in the market, highlighting its unique value.
A Symphony of Form and Function
The 1977 Sofa is a blend of modern materials and construction methods, enhancing its functionality and longevity while retaining the integrity of its classic design. Its organic architecture welcomes relaxation and envelops you in instant comfort. The sumptuous curves and contours create a gentle silhouette and sculptural form, perfect for those who appreciate aesthetic beauty and comfort.
Flexible and Adaptable
The modular design of the 1977 Sofa enables effortless adaptation to changing space requirements, removing the need for frequent furniture replacements. It includes one corner module, one corner chaise module, and two chair modules, comfortably seating four. The individual modules are easily attached with an exclusive connecting system, ensuring seats are kept securely together. This flexibility is an essential aspect of modern-day living where space is a premium.
Exclusive Fabrics and Easy Maintenance
The 1977 Sofa is available in two premium fabrics developed exclusively for the sofa. These tailored covers are not only stylish but also machine washable, making cleaning a breeze. They can be easily removed for cleaning or replaced for a fresh seasonal look.
Unparalleled Comfort
Luxurious seating is achieved with five graduated comfort layers crafted from varying densities of CFC free high resilience foam and fibres. This innovative layering approach ensures that the 1977 Sofa conforms to your body, providing a seating experience that is as comfortable as it is luxurious.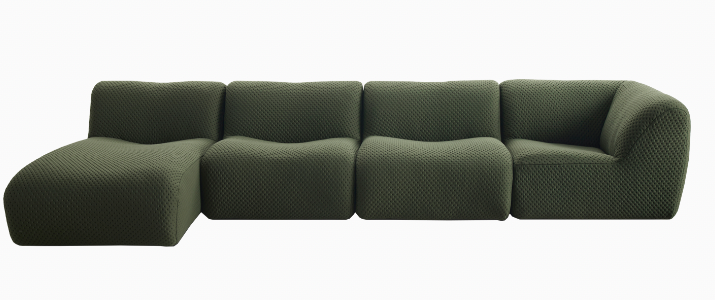 Environmentally Conscious and Durable
Designed for longevity, the 1977 Sofa's steel frame is recyclable, and the support of the steel suspension system protects and extends the life of interior components. The sofa is packaged with polypropylene non-woven fabric and compactly shipped to reduce its carbon footprint. The King Living steel frame works together with the Postureflex® Seating System to provide ultimate support, backed by the King Living 25 Year Steel Frame Warranty.
Exclusively King Living
The 1977 Sofa is designed, manufactured, and sold exclusively by King Living, a testament to the company's commitment to quality and design excellence. Owning a 1977 Sofa is more than just having a piece of furniture; it's an experience that takes you back in time while keeping you firmly grounded in the present. It's a perfect blend of the past and the present, the old and the new, the classic and the contemporary - a piece that truly stands the test of time.